Perussouomalaiset (PS)* head Riikka Purra wasn't the only one overjoyed by the latest Helsingin Sanomat opinion poll, which showed the radical-right party overtaking the Social Democrats to second place after the National Coalition Party (Kokoomus). Behind Purra was Kokoomus chief Petteri Orpo, gleeing. 
Finns will go to the polls on April 4 to elect 200 MPs.
While observers debate the reasons behind the good showing of the PS, we can cite three:
Fear-mongering about minority youths in gangs.
President Sauli Niinistö's endorsement of that fear.
Kokoomus' willingness to form a right-wing government with the PS.
---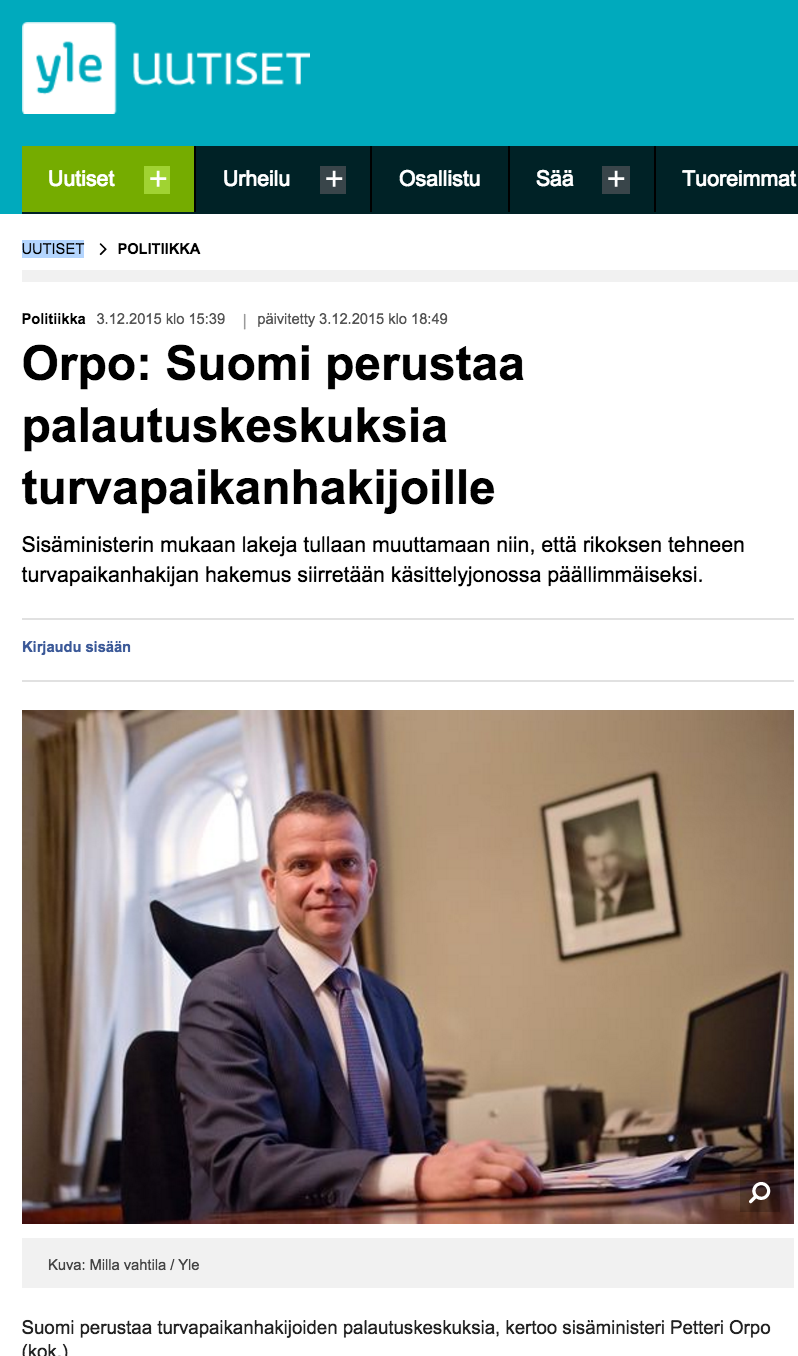 ---
Orpo and former Prime Minister Juho Sipilä rejected the PS in 2017 after the party split in two because the party was led by Jussi Halla-aho, who was convicted in 2012 for ethnic agitation and for breaching the sanctity of religion.
Sipilä's government didn't need the PS since the newly formed faction, Blue Reform, was there to offer its support to keep the government intact.
When I moved to Finland in December 1978, I did not understand how racist Finland is. If I had known what I know now, I would have never moved to this country and raised a family.
In 1980, there were about 10,000 foreigners in Finland. The majority of these were Finns who were naturalized Swedes.
The rise of the PS in the 2010s and Kokoomus' willingness to go to bed with a radical right party with ties to far-right and neo-Nazi groups speaks volumes of how far we have stooped.
In a Guardian column by Aditya Chakrabortty he writes about the long racist roots of Kokoomus' sister party, the Tories. He writes: "For the Tories, racism is a fire that they just love to play with. The heat it throws off can be electorally useful. But it is always someone else who gets burned."
Now replace the word "Tories" with Kokoomus and see how it matches.
Just like Home Secretary Suella Braverman labels those seeking asylum in Britain an "invasion," we have seen a lot of similar statements by Finnish politicians like Orpo, who referred as interior minister (2015-2016) asylum seekers coming from the Russian border as water from "a leaking roof."
As interior minister, he was disinterested in the suffering of asylum seekers, even claiming that "Iraqis are a challenge to Finland."
As a minister in Sipilä's government, Orpo was responsible for the following measures:
Free legal representation was restricted to applicants who required exceptional grounds for assistance;
The deadline for appeals was lowered from 30 to 21 days after a second rejection and to 14 days after the third rejection;
The government tightened appeal times in the hope of ejecting asylum seekers faster from Finland;
Further administrative restrictions and practical difficulties were making the application process more complicated;
Tightened family reunification laws;
No time limit on detaining families with children in immigration removal centers like Joutseno and Metsälä;
The lack of government leadership in tackling Islamophobia and racism contributed to Finland's hostile environment affecting migrants and inhumane immigration policy.
Orpo and Kokoomu's disdain for migrants and the reason why they support the racist dog whistles of the PS and its party is evident.
I feel sorry for Finland's ever-growing culturally diverse communities if Kokoomus and the PS form the next government.
The biggest loser, I believe, will be Kokoomus.
---