THIS STORY WAS UPDATED
Yle revealed in a story today that the far-right Kansallismielisten liittouma has distributed Green League Minister of the Interior Maria Ohisalo's and Prosecutor General Raija Toiviainen's home address for harassment purposes.
Moreover, Kansallismielisten liittouma chairperson, Tero Ala-Tuuhonen, has been in touch with "a Helsinki police sergeant" who has advised the far-right organization on how to hide weapons and how to beat up asylum seekers without getting caught by the police.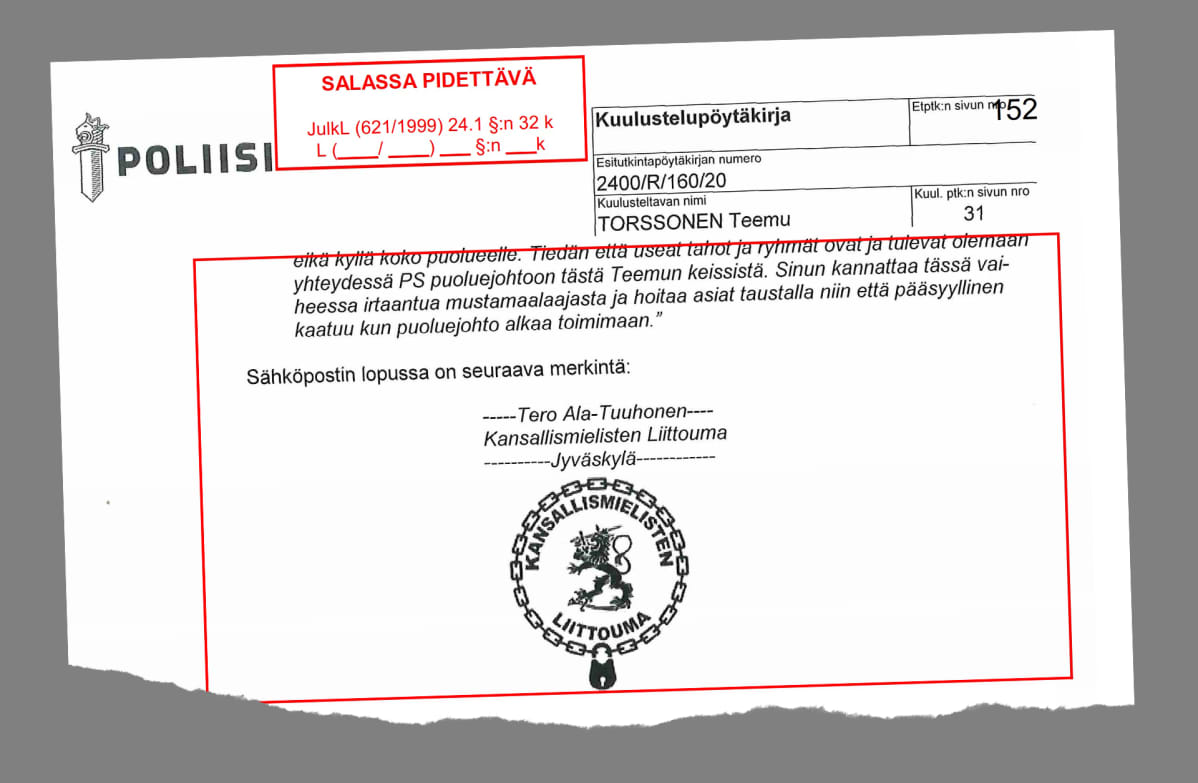 According to Yle, Ala-Tuuhonen had the following conversation with the Helsinki police sergeant:
---
Ala-Tuuhonen: Jyväskylässä on matujengi alkanut uhittelemaan katupartoijille. Käydään lauantai iltana etsimässä niitä isommalla porukalla [kieliasu alkuperäinen].
Ala-Tuuhonen: "In Jyväskylä, an asylum seeker gang [uses the derogatory term matu] has started to threaten street patrols [they should be called vigilante group]. Let's go search for them with a bigger group [of vigilantes]."
---
---
Ylikonstaapeli: Jos lähdette etsimään matuja niin tiedustelkaa mahd. monella yksiköllä eri alueita. Jos otatte mukaan ns. kättä pidempää niin kannattaa laittaa ne yhteen autoon ja takakonttiin niin että ne ei oo missään vaiheessa näkyvillä. Ja muistakaa se, että poliisi ei voi suorittaa paikanetsintää autoon ilman perusteltua syytä. Keskittäkää voimat eli ei pienellä porukalla matuja haastamaan vaan odotatte että porukka on kasassa. Muistakaa myös että niillä on poikkeuksetta mukana veitsiä tms.
Police sergeant: "If you go to search for those asylum seekers [uses the term matu] inform us about their numbers in different areas [of the city]. If you plan to use violence, make sure that it's not visible. And remember that the police cannot search a car without reasonable cause. Concentrate your strength so that you don't confront matus but wait until the group is formed. Remember also that they customarily carry knives etc."
---
While it is clear that this is not the only police officer with xenophobic and far-right views of asylum seekers, it is surprising that "the Helsinki police sergeant" has not been suspended.
Neither has the police carried out a thorough investigation about the problem within its ranks.
The same police sergeant is suspected of posting Islamophobic posts in chat forums.
FURTHER READING
The National Police Board lets itself off the hook concerning a racist Facebook group (20.2.2018)
Piia Kattelus-Kilpeläinen: Put another fascist feather in my PS cap (2.1.2021)
PS' Teuvo Hakkarainen and Olli Sademies: Ethnic agitation charges and racist bravado (4.1.2017)