The Council of Ethics in Advertising has found nothing wrong with a Fazer advertisement, which depicting a stereotypical Southern European gigolo in a salt licorice television commercial. The seven-member board of the council, which are all white Finns, considered the commercial to be done in good taste and with humor.
Migrant Tales filed a complaint to the Council of Ethics in Advertising citing that the Fazer television commercial reinforced racist stereotypes about men from Southern Europe. Aren't stereotypes the breeding ground of racism and discrimination?
The council receives all of its financing from the private sector.
For those of us who have lived in Finland in the 1980s, the "mud-faced gigolo speaking broken Finnish" was a common racist stereotype of some foreign men that still exists.
An important question we should ask Fazer is why it persists in using such marketing strategies after racist mascots like its infamous Golliwog on its licorice brand, which was banned in 2007 thanks to EU pressure, and the racist image  of a Chinese man or woman in one of its products in 2011? Why does the company think that race and ethnicity are the way to the Finnish consumer's heart?
Adding salt to injury, tabloid Ilta-Sanomat headlines that the commercial doesn't insult migrants.
Right on, Ilta-Sanomat. Here's a white tabloid giving its "expert view" on what is and isn't offensive to migrants.
Tabloids like Ilta-Sanomat played an important role in reinforcing intolerance and hostility towards migrants from the 1990s.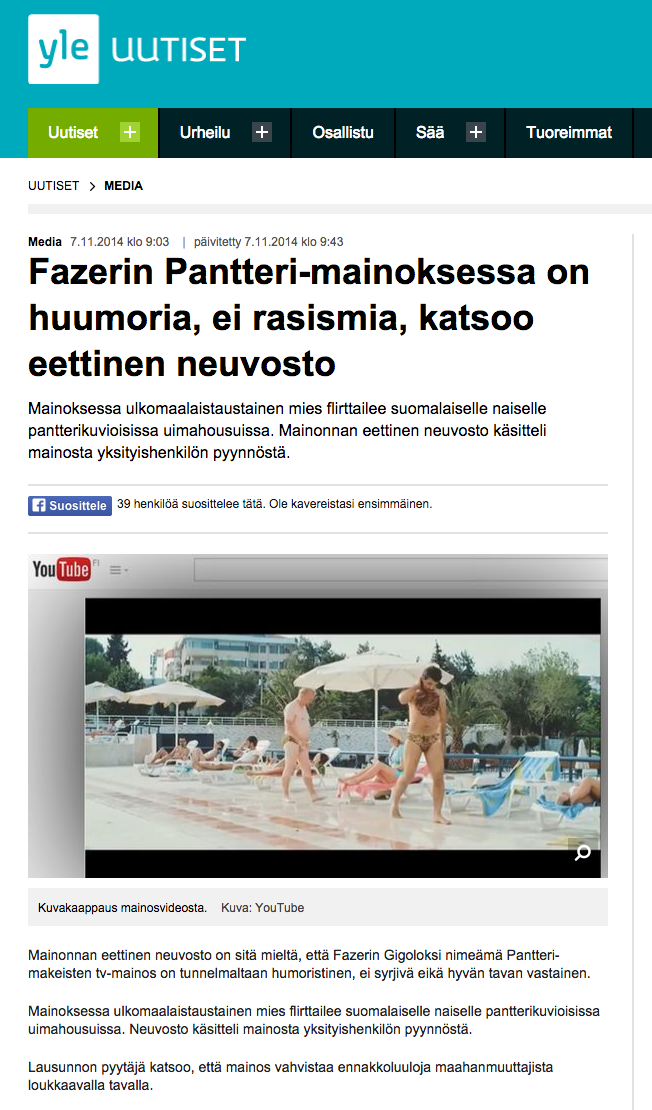 Read full story here.
Even if The Council of Ethics in Advertising sees nothing wrong with the television commercial, many minorities in Finland consider it offensive.
 What is your opinion of this tv commercial?
See also: