Yle: "Today [Wednesday] about 70 asylum seekers asked for asylum [at the Russian border]."
A-studio: "One hundred thousand people attempt to cross the Mediterranean annually [to enter Europe]."
I've been quiet, watching with manifest unease, the actions of the government spearheaded by the Islamophobic Perussuomalaiset (PS)* party about the trickle of asylum seekers arriving at the Finnish -Russian border. For the PS, even President Sauli Niinistö, it's the usual pouring fuel on the xenophobic flames.
Racism and xenophobia are such a powerful political force in Finland these days that it threatens to take Finland to the political backwoods, a stuffy place where we mistrust everyone different from us and win elections and brownie points by spreading hatred and conspiracy theories of minorities like Muslims.
Interior Minister Mari Rantanen, who has a dubious history of spreading conspiracy theories and bigotry of Muslims, is one matter, but why is PS Finance Minister Riikka Purra beating viciously the Islamophobic drum?
---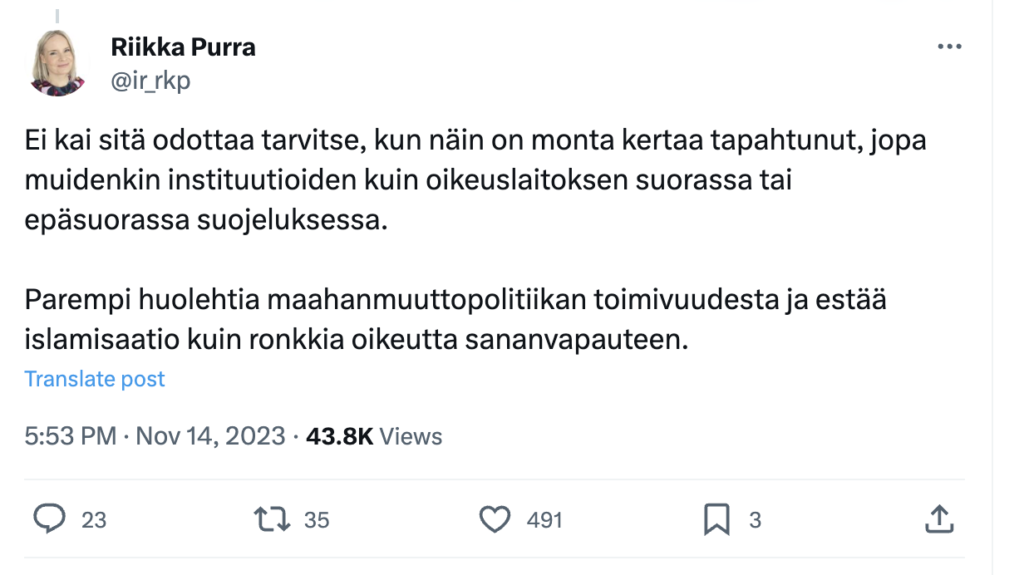 ---
Purra tweets: "You don't have to wait for that, as it has happened many times, even to other institutions like the judiciary which is under direct or indirect protection.

Better to ensure that immigration policies work and prevent Islamization than to trash the rights of free speech."
Top left: "International agreements can not be suicide pacts, and we don't undermine our sovereignty."

Top center: "The government has chosen to take every possible means to ensure that the flow of asylum seekers at the eastern border is cut off. If one measure does not work, we will implement another. We want to have control over our border. Simultaneously, the whole immigration policy will be reformed."

Top right: "It is not about the number of asylum seekers but about the Finnish [national] security and Russian actions."
---
The actions of the government and President Niinistö are an opportunity to make and push forward a Finland rooted in xenophobia and total disregard for human rights.
While we push back on our Nordic welfare state, human rights and the rule of law, we are also causing great harm to our society and country.
---