Instead of only congratulating the National Coalition Party's (NCP) sister party, Partido Popular, Prime Minister Petteri Orpo should pay close attention to the election result in Spain. True, the conservative Partido Popular, won the election, but the result was disappointing and insufficient to give it a majority.
Social Democratic (PSOE) Prime Minister Pedro Sánchez' snap election gamble paid off handsomely. The PSOE defied all expectations and gave it 31.7% of the vote, the best result in percentage terms since 2008. More importantly, the result broke with Europe's shift to the radical right.
---
Source: The Guardian.
---
The biggest loser of Spain's election was the far-right Vox, a sister party of the Finnish Perussuomalaiset (PS)*. Support for Vox plummeted to 12% from 15% in 2019, causing it to lose 19 seats to end up with 33 seats in parliament.
---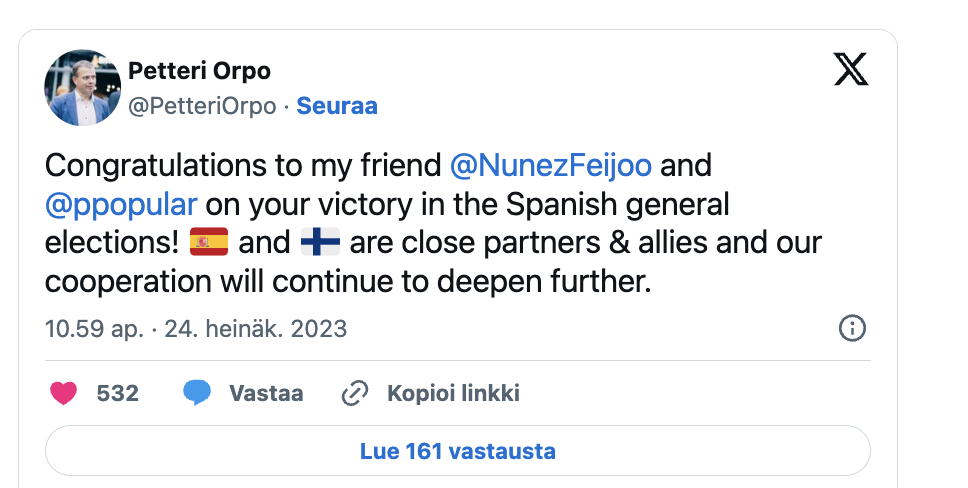 Source: Helsingin Sanomat
---
If Spain can beat conservative and radical right parties in an election, countries like Finland should be encouraged by the result in Spain.
One of the reasons why Vox did poorly in the election were its far-right stances, which turned off voters.
Certainly, the Spanish prime minister, who can pull off such masterstroke elections, is a key factor in Spain's election result. Even so, we'll see if Orpo's denials and weak leadership, and the hard-right radicalism of the PS, will turn off voters in Finland.
If Vox's result is anything to go by, those who voted for the PS may have second thoughts in the face of racism scandals hitting the government. Moreover, Kokoomus may also suffer due to Orpo's weak leadership and incompetence in putting a lid on the government's racism problems.
---