As a writer and person with a multicultural background, I have been seeking to narrate a more inclusive and accurate history of Finland. Taking into account that over 1.2 million people emigrated from this country between 1860 and 1999 and our ever-growing immigrant population, aren't both of these facts enough proof of our cultural diversity?
The question we should, therefore, ask is why have we denied our cultural diversity for so long? Why do some still deny it?
Since we have had our heads buried for too long in the sand thanks to social constructs like Finnish culture and ethnicity, their aims have been sinister: to exclude instead of include.
A middle school geography book published in 1941 claims that Finland had two predominant "races:"  Nordic and Eastern Baltic.* These races were still mentioned in history books published in the 1970s.
Our narrow view of ourselves reveals many things about our society and the challenges we face today. It explains the rise of the  Perussuomalaiset (PS) and Jussi Halla-aho, both of which are reactions to Finland's ever-growing cultural diversity and internationalization.
Finns have paid a high price for being too alike for too long. Forging a monolithic national identity based on myths was a short-term solution to a complex issue.  It explains why some of us don't understand how racism is a threat and why the media and public were dazzled by the PS before the April election.
Blame all of this on the fact that we were taught and made to look too alike. It explains what is essentially wrong with us and why it has encouraged a strongly one-sided view of history, the role of "others" in our country, and permitted us to erase an important part of our cultural heritage.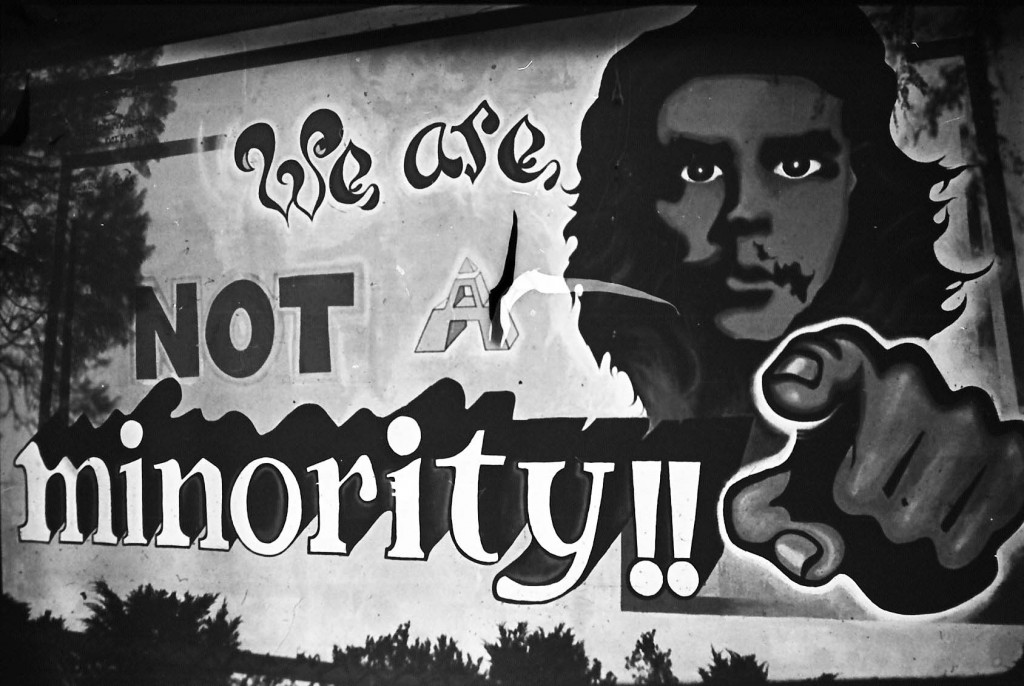 Are we a minority? This picture was originally taken in the early 1980s in Los Angeles, California.
I am confident that the Finland we are building today is and will be very different from the one we built in the last century. It will be more confident, stronger and lasting because it will be based on inclusion, social equality and acceptance of our cultural diversity.  Our diverse make up as a nation offers us different experiences but we should never forget one crucial fact: We are not separate.
*J.E. Aro, J.E. Rosberg and L. Arvi P. Poijärvi: Koulun maantieto. Otava 1941. p. 32.