Remember Perussuomalaiset (PS)* substitute MP Juha Maenpää who said god had answered his prayers after a reception center that was going to house asylum seekers was razed to the ground on December 1? It appears that all he got for writing such a comment was a lot of publicity and a soft slap on the hand. 
Jaakko Leiniö, chairman of the Ilmajoen Perussuomalaiset chapter, told Migrant Tales over the phone that what Maenpää wrote was "his own ideas" and that sacking him isn't possible because it "would be against the associations act."
Leiniö added that Maenpää had apologized for what he wrote. "According to him, what he wrote was [widely] misunderstood," the Ilmajoen Perussuomalaiset chapter chairman added.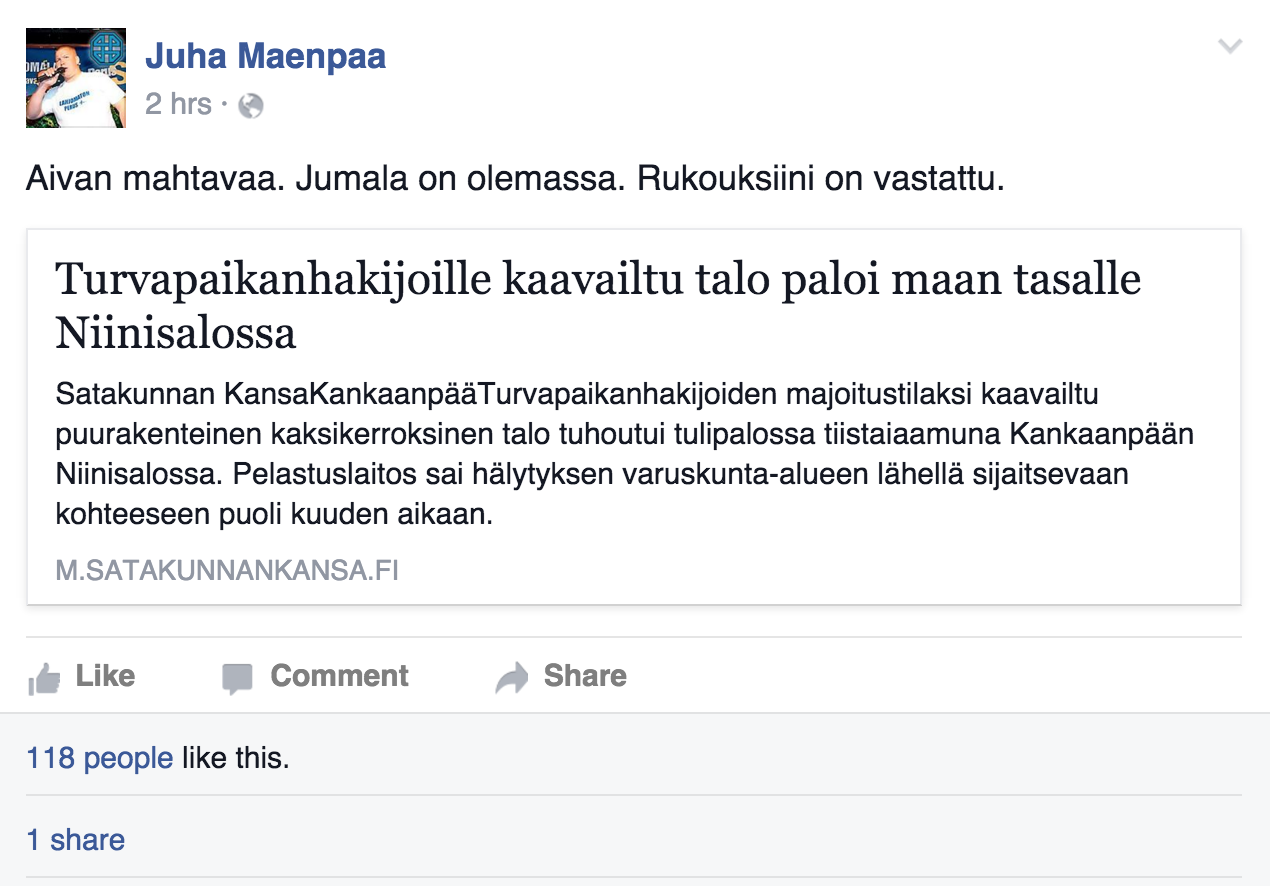 PS substitute MP Maenpää wrote on his Facebook page on December 1:"Great. There is a god. My prayers have been answered" after a building that was going to house asylum seekers was burned to the ground. He has apologized for what he wrote but hasn't taken down the controversial posting on Facebook.
If we look at Maenpää's Facebook page there is nothing to suggest that he feels any remorse or shame for what he wrote.  A member of the far-right white Finnish supremacist Suomen Sisu association, Maenpää continues to spread his usual dose of xenophobia on his Facebook wall.
In one posting below, Maenpää mocks at the most recent failed arson attack against a hotel that was going to house asylum seekers in Asikkala. The police has asked people in a news story to get in tough with them if they had threatened to attack the hotel on social media. Maenpää twists the news in the following manner:
"The police request if you are a newcomer and thought of raping a white Finn to call this number and you will at least help your own pretrial investigation."
Another posting on Maenpää's wall which reveals what he thinks about asylum reception centers.
What does an apology mean when the person doesn't really apologize and thinks that an arson attack against an reception center is a big joke?
A society that doesn't stand by its laws and turns a blind eye to violence reveals the alarming state of bankruptcy of its values.
* The Finnish name of the Finns Party is the Perussuomalaiset (PS). The English-language names adopted by the PS, like True Finns or Finns Party, promote in our opinion nativist nationalism and xenophobia. We therefore prefer to use the Finnish name of the party on our postings.