When it comes to challenging Islamophobia and racism, the Finnish media is part of the problem.
Remember the power that words have when writing a sory. You don't need to kill an ant with a bazooka. 
Journalists and newspapers in Finland, especially tabloids like Iltalehti, Ilta-Sanomat and state broadcaster Yle, are prime examples of not only white Finnish privilege but of white Finnish overkill and rage. 
Anu Koivunen, a professor at Tampere University that researches the media and gender topics, appears a lot in the media. In an op-ed piece in Suomen Kuvalehti,  she details the reporting of three publications that covered the sexual assault cases of Oulu.
---
Read the full op-ed piece (in Finnish)  

here

.
---
Here is Koivunen's tally of the reporting:
Both Ilta-Sanomat and Iltalehti gave in their print editions 20 pages of space for the Oulu sexual assault cases;
During a week, Ilta-Sanomat published for five days straight front-page headline stories about Oulu;
Iltalehti published a special edition on the sexual assault cases;
Ilta-Sanomat published three editorials on the topic and Iltalehti two;
Iltalehti went as far as to claim that Finland's asylum policy was "naïve" and asylum seekers "are a national threat;"
Even if Prime Minister Juha Sipilä's government tightened immigration policy in 2016, Ilta-Sanomat states that the government should apologize to the people for what happened in Oulu;
Yle published 50 online stories on Oulu for a whole week;
Wide coverage was given on the following Yle television and radio programs: A-Talk, three times on Ykkösaamu, twice on A-Studio, Aamu tv, Politiikkaradio, and Sanna & Veikkola;
The latter reporting examples aren't only examples of how Ilta-Sanomat, Iltalehti and Yle practice overkill, but how they ostracize with a bazooka to shoot at the topic. Those being shot at are easy targets, mainly Muslim asylum seekers in Finland, whose situation is already difficult.
Some of these asylum seekers have lived in reception centers for close to four years without any clue if they will ever get a residence permit to stay in Finland. Some of them are families with children.
If the reaction of the media leaves a lot to be desired, the politicians are dancing to their tune telling them to increase the heat.
The audit committee of parliament is a good example of how politicians are easily swayed by what they call "the people's sense of justice," or the rage expressed found in the media. The audit committee of parliament came up with some recommendations on how to change the integration act.
We already know that those recommendations, which were partly criticized by researcher Pasi Saukkonen, will fail. Politicians, the media and the public believe that tightening laws, creating a hostile environment by placing migrants on short leashes and under rigorous scrutiny will help newcomers to become a part of our society.
Dead wrong.
In order for Finland to integrate people effectively it must, first and foremost, be an open and inclusive society.
Media coverage, politicians' reaction and the public's rage are examples that we are not nearer to becoming an open and inclusive society but distancing ourselves from such ideals.
---
BILLBOARD "GEMS" OF THE EARLY 1990s
From left to right: "Somalis o remain in Finland," "Somalis got asylum by conning the authorities," and "Somalis fear: Don' blame us for everything."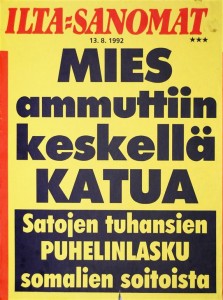 From left to right: "Why do Russians irritate Finns?" "An Estonian man swindled the state of 110,000 marks of social welfare assistance," and "Somalis leave phone bills worth hundreds of thousands [of marks]."