It is concerning for migrants and minorities in Finland that we have a government that is openly hostile to them. As in Juha Sipilä's (2015-2019) government, there was an agreement that migration policy would be handled by the Perussuomalaiset (PS)* party in exchange for the National Coalition Party (NCP) and Center Partry dictating economic policy.
It is the same situation now: The NCP remains silent on migration policy and the PS is silent on austerity measures in exchange for dictating migration policy.
Looking at the PS' track record and its use of conspiracy theories to drive home its xenophobic message, one wonders if just erasing previous racist posts is enough to restore credibility in ministers like Mari Rantanen.
---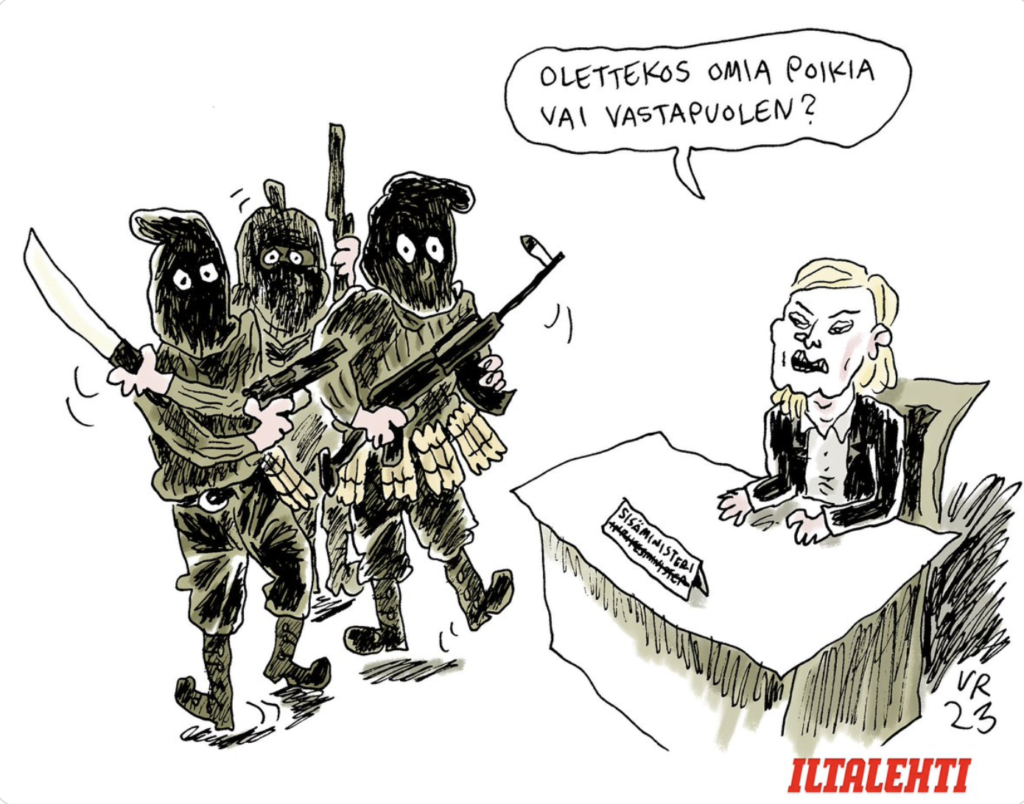 "Are you on our side or the other side's," asks PS Interior Minister Mari Rantanen. Source Ville Ranta, Iltalehti.
---
Many of Rantanen's social media posts before the 4 April election, which were deleted and whitewashed after the elections, were based on conspiracy theories, such as the great replacement. "We shouldn't be so blue-eyed that soon we won't be blue-eyed?" is one of his more unusual quotes.
In Finnish, being "blue-eyed" means being naive.
Moreover, even if these types of posts do not increase credulity, how can one even attempt to find a solution to the youth problem in society if Rantanen and her party blame social problems like pinning youth gang violence on 'harmful migration?
Due to the PS, with the full support of the NCP, the debate on migration and far-right threats will be selective. A good example is the silence of the government concerning three suspects tried in Lahti on terrorism charges.
The other topic that the government will give little importance is the harm of its migration policy on migrants and minorities.Equallly worrying are the government's plans to give more police powers to "fight migrant crime," real or imagined.
Helsingin Sanomat published an editorial Tuesday about the threat of far-right violence in Finland, which the government appears to play down.
Writes Helsingin Sanomat: "However, the case is a fresh reminder that the extreme right is a real threat to Finland's security. The assessment made by the Finnish Security Police (SUPO) a couple of years ago is correct; in addition to the terrorist threat from radical Islamists, the terrorist threat from the far right has increased."
Does the government, especially its Interior Minister Rantanen, acknowledge the threat or plays it down?
---