President Barack Obama's election victory is the best news embattled United States could hope for. The U.S. president's leadership on many fronts in the past should be a source of inspiration for European politicians who are being put under the gun by ever-growing populist mainstream intolerance and racism.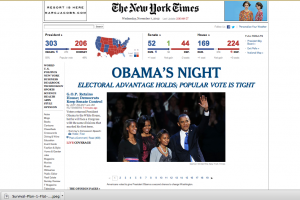 Obama has shown leadership on many occasions. He opposed the U.S led invasion of Iraq at a time when it was considered political suicide to be against President George W. Bush's right to wage preemptive war on anyone Washington pleased. His support for gay marriage is another political milestone of his administration.
While these and many other difficult policy calls are risky, the job of an exemplary politician is to offer leadership and do what is right. Sometimes we need tap our gut instincts to make hard calls. Time will eventually reveal whether those political decision were right or wrong.
One of the many powerful messages in Obama's victory speech was praising the United States as the most diverse nation on Earth. He said: "As long as we have the courage, to keep reaching, to keep working, keep fighting. Everyone can make it in America. Black, white, Hispanic, Asian, Native American, young, old, rich, poor, able, disabled, gay, straight. You can make it here in America if you are willing to try."
Too many politicians in Europe and Finland still patronize with populism and racism. Instead of fueling inclusion, they promote social exclusion of certain groups with their silence and  views. This is a ruinous path that we must challenge with leadership.
Obama's message, that the United States is the most diverse and  powerful nation on Earth, should inspire us to do much more in Europe and Finland to promote diversity.
If we fail in the task and allow our fear and myths to devour our courage, it's pretty clear that we'll be the biggest losers.