Muutos 2011, which has one MP in parliament, is a good example of a xenophobic party in Finland. They are a good example of the racism, contempt and hatred that some Finns have for migrants and minorities. Behind all the Muutos 2011 rhetoric you will find a hostile message: keep Finland white. 
James Hirvisaari, who was ousted from the Perussuomalaiset (PS)* after he posted a picture of a friend making a Nazi salute in parliament, is its lone MP.
The party gives us a glimpse of what they think of migrants and minorities in their election program:
Muutos always places Finns first in decision-making. Since we Finns are from a global standpoint a small and disappearing minority, we have to defend our language and culture since nobody will do this for us.

We're not against immigration, but we believe we have a duty to former and future generations to maintain Finland a livable and secure country where Finns can live and practice their culture.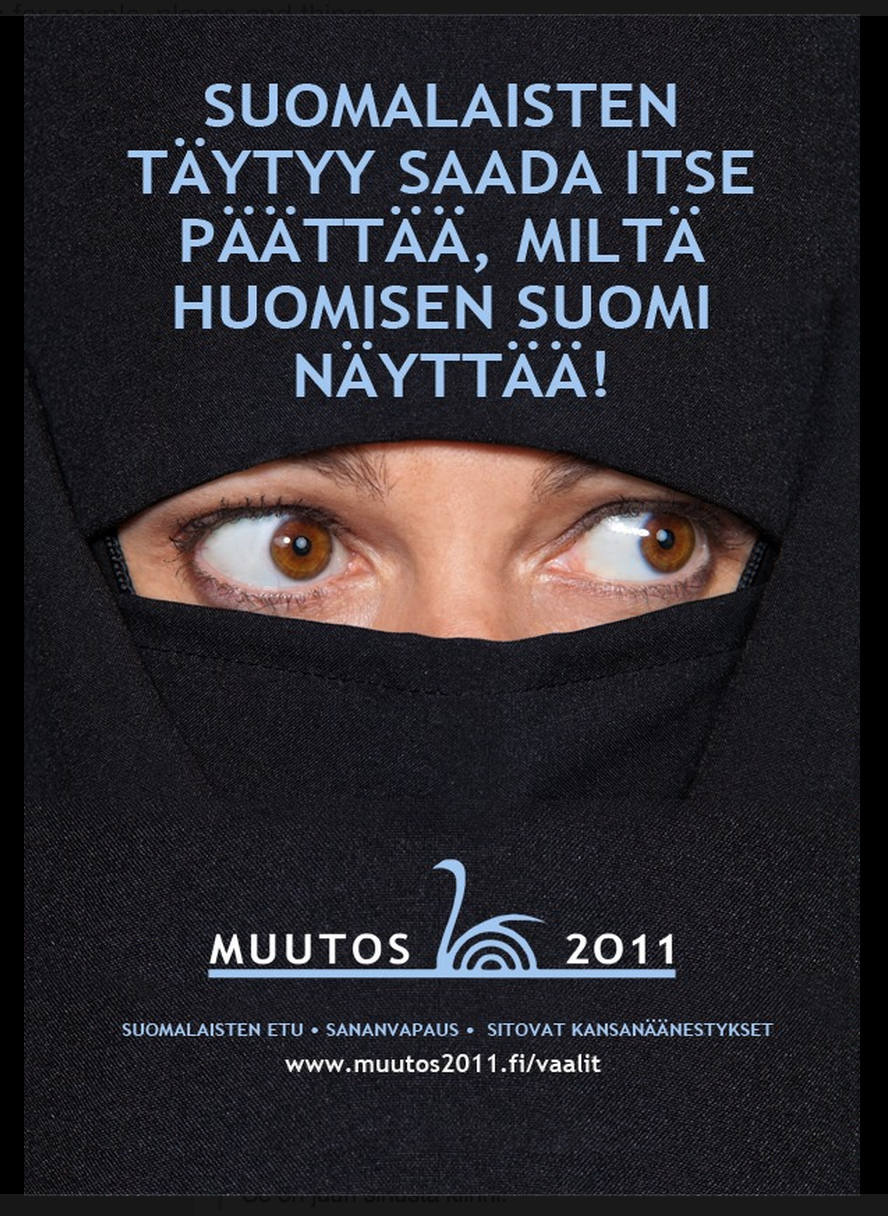 The poster states that Finns must have to right to decide what Finland will look like in the future.
Any sensible person can see what's wrong with the above statement about immigration. Muutos 2011 sees Finland as a white country while in fact it has always been and will be culturally diverse. In Muutos 2011's world, migrants would be seen as eternal outsiders that would always be second- and third-class citizens in this country.
The campaign poster above says it all about white privilege and how some Finns dread cultural diversity. Their problem is that Finland is already culturally and ethnically diverse. It's not as if this will happen tomorrow or after tomorrow. It's here, now.
Migrant Tales hopes that Muutos 2011 will lose their only seat in the April parliamentary elections.
* The Finnish name for the Finns Party is the Perussuomalaiset (PS). The English names of the party adopted by the PS, like True Finns or Finns Party, promote in our opinion nativist nationalism and xenophobia. We therefore prefer to use the Finnish name of the party on our postings.